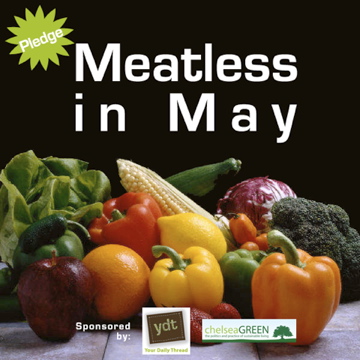 Image Courtesy of
your daily thread
"Wait what? This site is supposed to be about MEAT and VEGETABLES?" That's probably what you are thinking. Or at least I'd like to think that people are reading this, thinking about stuff. Anyway, the normal theme, or supposed theme of this blog is for recipes that are for a vegetarian and meat-eater, in one meal. For some reason, I honestly don't know what it is, I decided that I wouldn't eat meat in the month of May.
Now before you jump to conclusions, I will in fact still eat fish, and dairy etc. Nothing vegan here. There are several instances this month where I will be forced, due to previous obligations, to eat meat. My wedding dinner tasting, an award ceremony where I already selected meat as my dish, and well, that's about it. At the end of this month, the last weekend in fact, is my bachelor party and so I will be eating meat during that, so its really, almost meatless May.
That means for the rest of this month, all recipes will be vegetarian. Of course I'll talk you through adding a delicious piece of meat to the meal, but other than that…you are on your own.